Managing home energy made simple: Shelly energy meter now integrates with Zerofy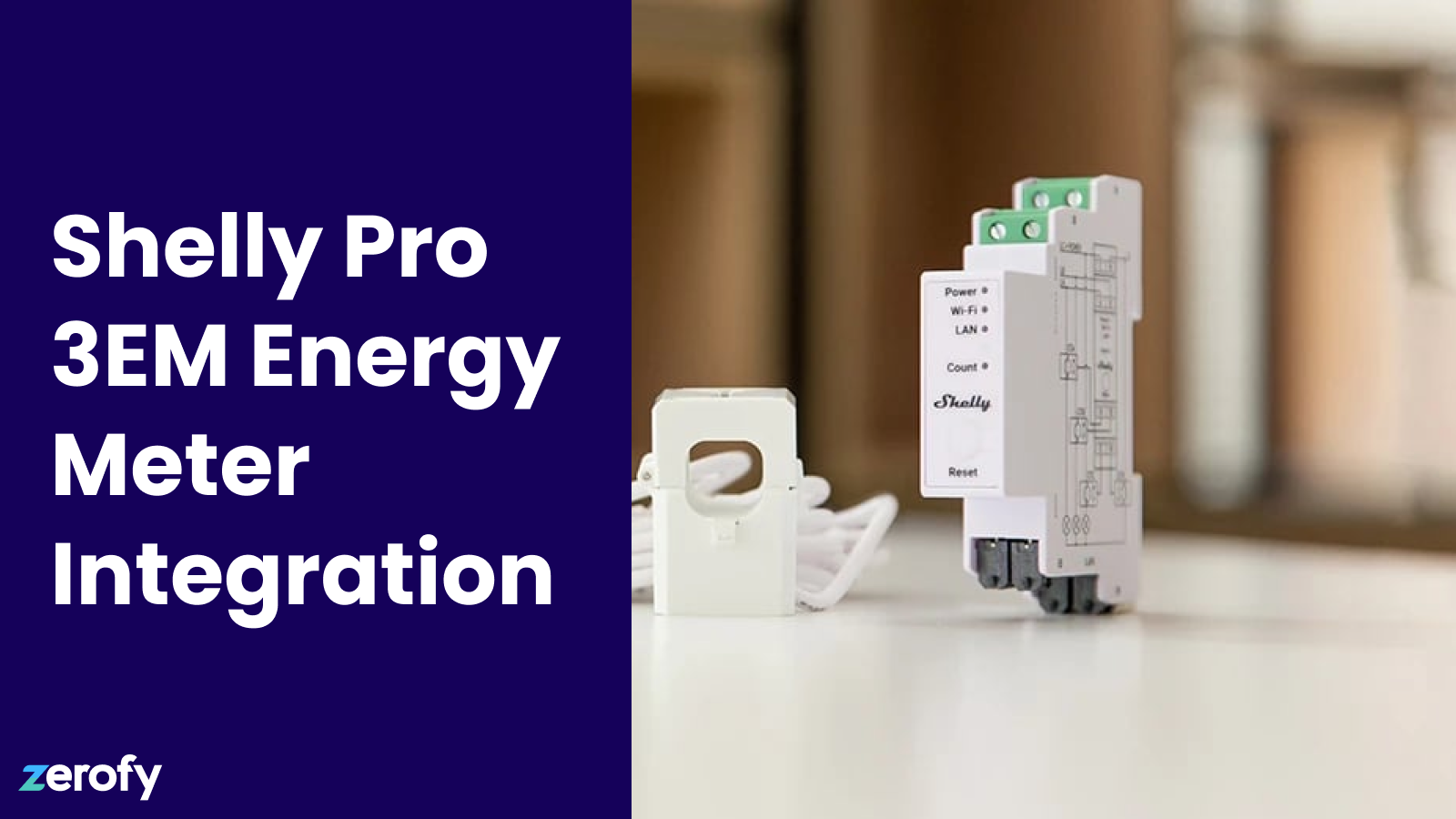 In an age where energy conservation and environmental responsibility are essential, understanding our own energy consumption is a key step. But getting precise energy consumption is not easy. If you have access to a smart meter you may get your data from it, or via a national cloud service, if you're so lucky to have it in your country. (And if you have access, the resolution of the data is not very detailed (at best 15 minute interval, often hourly), and often it is delayed by a day or two). That being said, we already integrate with such services in Denmark and the UK, and we integrate with the very innovative cloud connected smart meters by smart-me.
But often you don't have access to a national energy cloud like in Denmark, and replacing your smart meter needs involvement from the energy provider or utility, and the devices are costly. In short, it can be complex.
The more excited we are to let you know about a great new device we integrate with: The Shelly Pro 3EM energy meter.
Understanding the Shelly Energy Meter
The Shelly Pro 3EM Energy Meter is a device designed to make energy monitoring both easy and affordable. It works through an innovative induction process: by attaching clamps around the electrical cables in your home, it's able to accurately measure energy consumption without needing to tamper with dangerous wiring connections.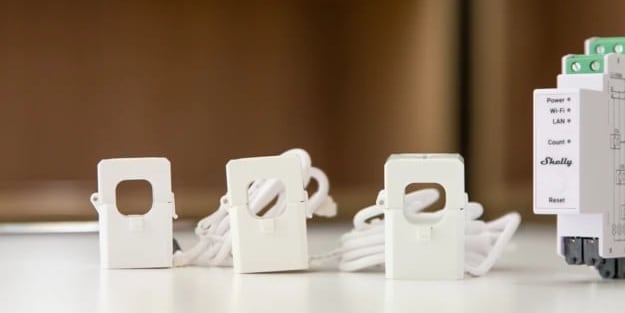 The device can be installed directly into your electricity panel or cabinet, making it a simple and safe solution for homes and apartments alike.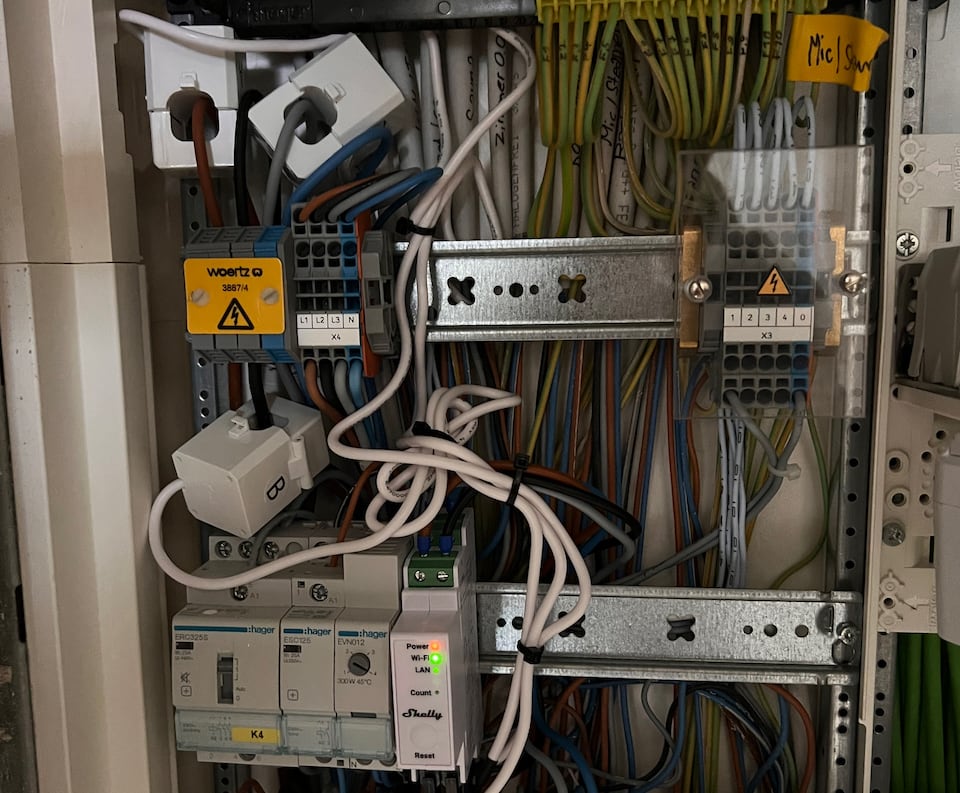 It can connect via bluetooth, LAN, or Wifi, and it can send the data straight to the cloud and with that also to Zerofy.
Zerofy and Shelly: A Seamless Integration
By integrating the Shelly Energy Meter into our Zerofy app, we've made it even easier for you to measure, understand and manage your electricity usage. The app provides detailed, real-time analytics about your energy consumption directly from the Shelly device, and we even calculate real-time CO2 metrics.
Connecting the Shelly Pro 3EM to Zerofy is super easy: just connect with your Shelly cloud account key in the Zerofy app and off you go!
Once connected, you can see consumption and emissions as shown below: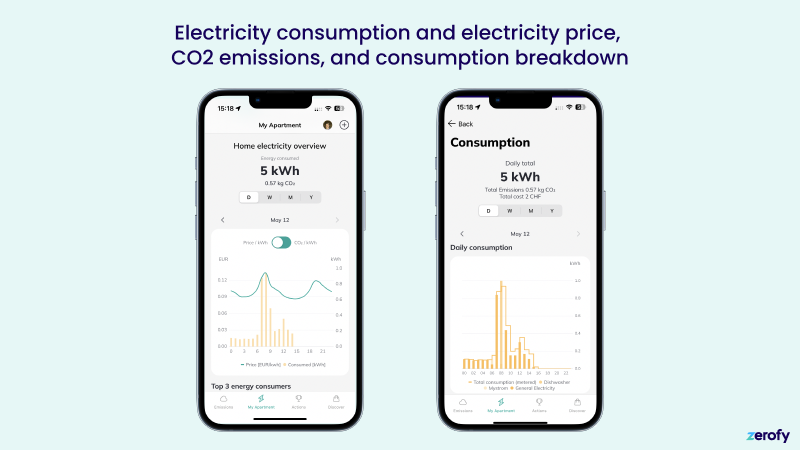 Shelly vs. Smart Meters: The Benefits of Simplicity
While smart meters are often touted as the ultimate solution for home energy management, they come with their own set of challenges. They are typically more expensive, require professional installation, and often necessitate involvement from your energy provider.
On the other hand, the Shelly Energy Meter is more cost-effective, simpler to install, and operates independently from your energy provider. Its integration with the Zerofy app makes it an even more user-friendly solution for those who want to monitor their energy usage without the hassle and cost of a smart meter.
Grab Your Shelly Energy Meter Today at a Discount!
We're so excited about this integration that we're offering the Shelly Energy Meter at a 18% discount in our online shop. You can get your hands on this innovative device for just €97 (excl VAT) instead of €119.
In Conclusion
The combination of the Shelly Energy Meter and the Zerofy app offers a straightforward, affordable way to stay informed about your energy consumption. With these tools, you're not just monitoring your usage - you're making a conscious effort to conserve energy and contribute to a more sustainable world. So, why not make the most of this opportunity? Get the Zerofy app, buy your Shelly Energy Meter, and start making a difference today.