About Zerofy
We're Zerofy, and we help households decarbonise.
Why?
We observed that people want to reduce their emissions, but are often confused about where in their household the big emissions contributors are. Worse, they also suffer from unnecessary complexity and friction when trying to implement solutions.
However, as drivers of economic demand, households can play a major role in reducing carbon emissions. With 70% of global carbon emissions indirectly attributable to households, people have a lot of power to make changes, right at home. While consumers may sometimes feel powerless, they can have a major impact right now by reducing emissions through electrification of personal mobility, heating, and cooking, but also through participating in decentralized (solar) electricity production and storage. After all, 27% of Europe's total final energy consumption is directly consumed in households, 28% in transportation.
While electrification of homes and personal transportation is quickly accelerating, households and electricity providers are provided with new opportunities but they are also facing challenges. Households miss a single place to manage these systems and they see increased electricity consumption and costs. Electricity providers need to align production of intermittent renewables with consumption, and deal with prosumers and higher loads. Demand-side response and flexible tariffs are new tools that help with this, but the "interface" to the consumer is often missing.
Zerofy solves these problems. Our app for electrified households lets you control all your devices from different vendors in a single place. You can not only optimize energy consumption, cost, and CO2, but you will also be able to participate seamlessly in new electricity services such as demand-side response.
Company
Zerofy is a technology company with an energy app that helps households decarbonise and shift towards becoming fully electrified. Zerofy was founded in 2022 by Criss Uudam and Till Quack, entrepreneurs and product builders with complementary expertise across software development, renewable energy and financing.
The company has been featured in Fast Company and TechEU, and in 2022 raised pre-seed funding from San Francisco-based Union Labs and a group of angel investors.
Our team
We're a team of passionate people from around the world, committed to building a great product that helps our users decarbonise.

Co-Founder
Till Quack

Co-Founder
Criss Uudam
Business Development
Beat

Data Science
Pepar

Mobile
Roman

Backend
Arkady

Product Design
Melissa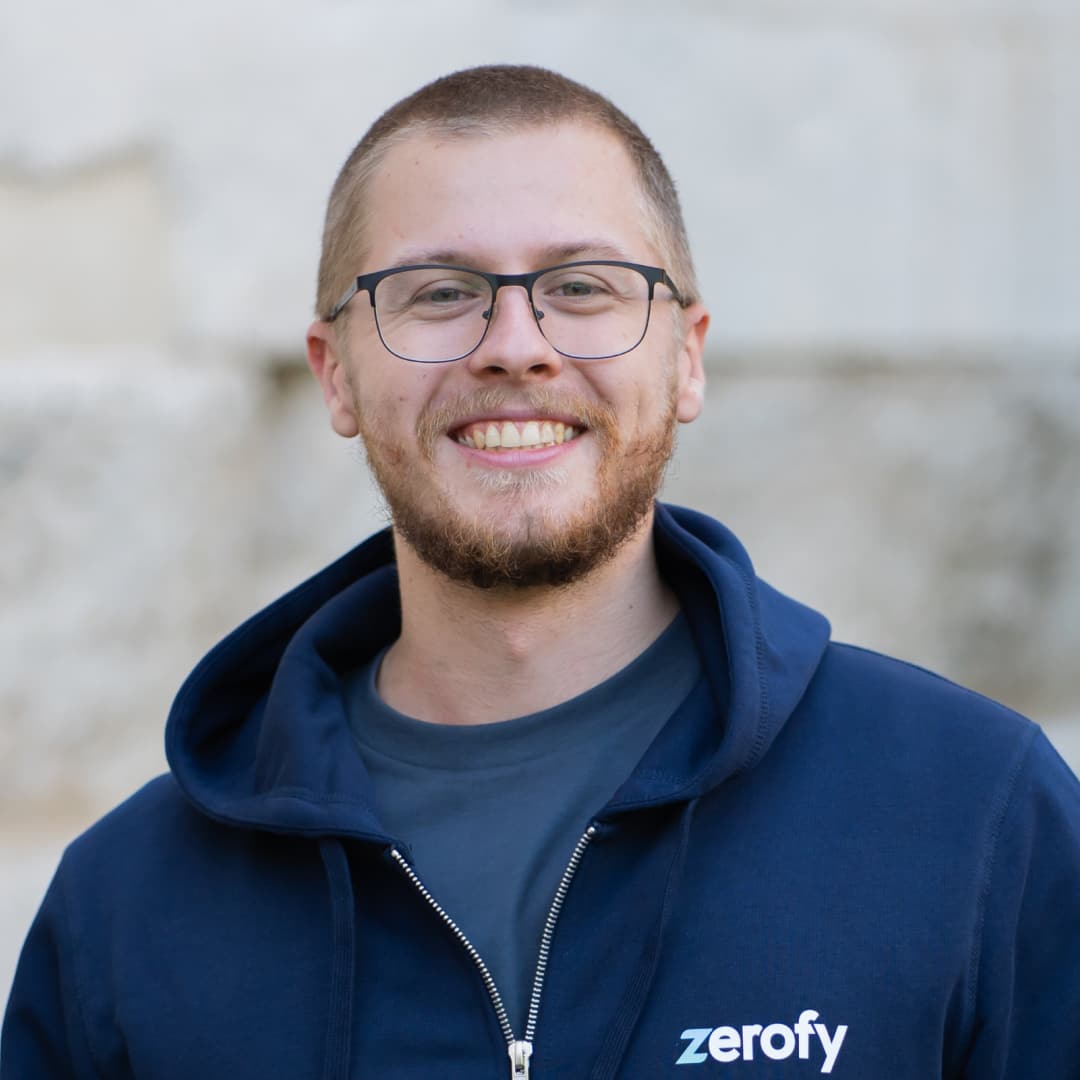 Founders' Associate
Paul-Markus

AI
Adil