Zerofy app launches in the UK and Denmark
The Zerofy app has expanded to the United Kingdom and Denmark! After successfully launching in other parts of Europe in 2022, the app is now available in the iOS App Store in the United Kingdom and Denmark as of Nov 30. Zerofy is a free sustainability app that helps people measure their household carbon footprint, automated and in real time. App users can then reduce their household carbon emissions by making switches to low carbon energy and products, taking steps towards a zero carbon life. A special feature of this launch is that Zerofy will integrate nationwide with smart meters via Energinet in Denmark, and n3rgy in Great Britain.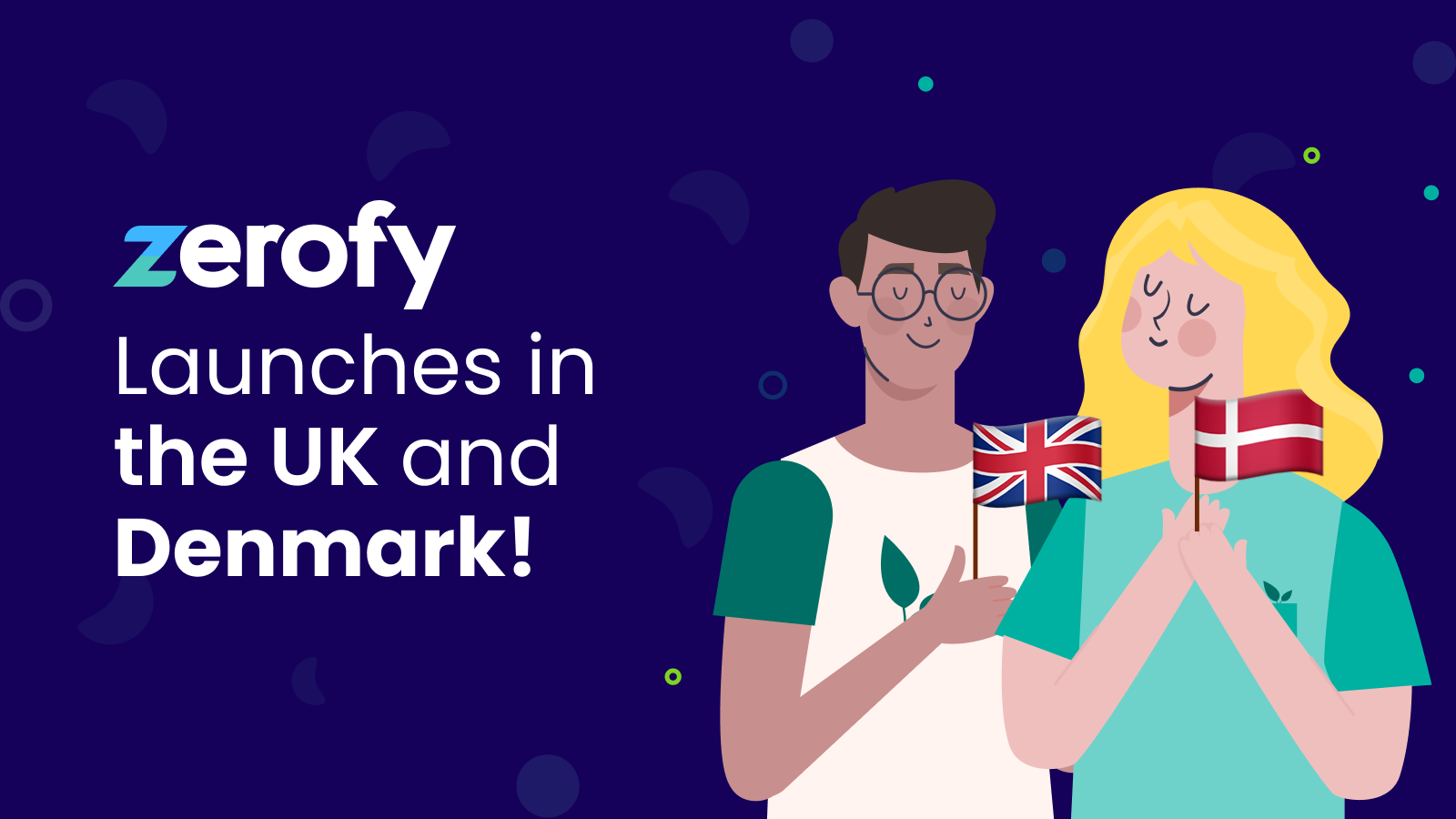 Zerofy is unique in that it is mostly automated, empowering users to track their household emissions with low effort. By gaining granular insight into the four main sources of household emissions—food, transportation, goods and services, and home heating and energy—people can then see where high impact switches can be made.
Smart meter integrations in Denmark and Great Britain
Zerofy users in Great Britain and Denmark will also be able to connect their smart meter to the Zerofy app. This will empower people to make their smart meter even more useful, and incorporate granular detail about household electricity usage into the overall picture of their household carbon footprint.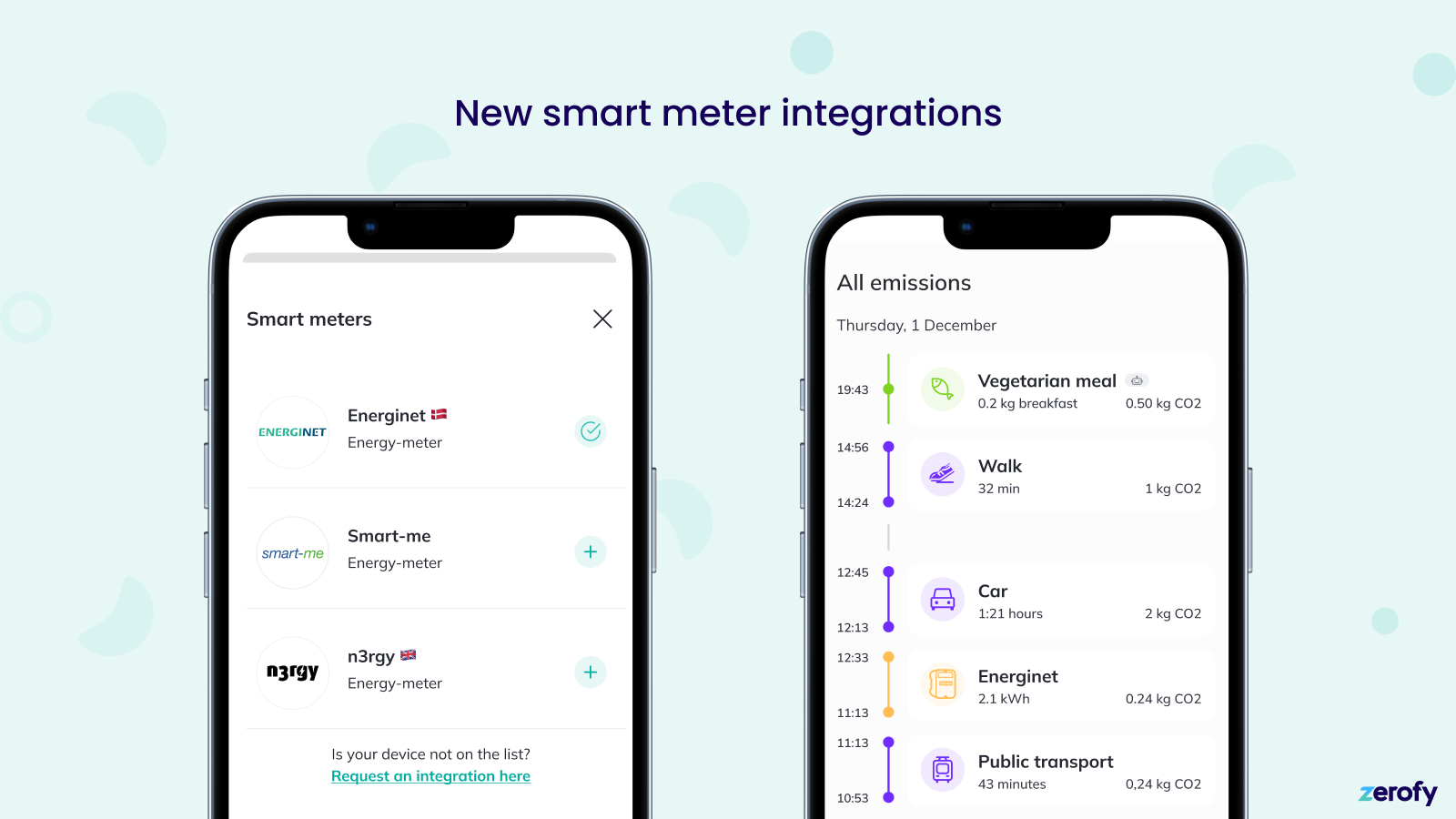 All users will need to do is log in within the Zerofy app using their credentials for Energinet, the independent public entity owned by the Danish government. Then, their smart meter data is automatically pulled into Zerofy. Similarly, in Great Britain, Zerofy integrates with n3rgy to allow users to access their electricity consumption in the app. Zerofy displays hourly electricity usage and calculates associated CO2 emissions.
Combined with all of the other features in Zerofy, like automated emissions tracking, real time carbon intensity, personalised actions for reducing emissions, and low energy products, users gain great understanding and control over their household carbon footprints.
What's your household carbon footprint? Find out.
Wait, what is a smart meter?
A smart meter is a digital electricity meter that measures how much electricity your household uses, and when it is used. The smart meter can send this usage information directly to your utility. They differ from analog meter that just log electricity usage and are checked by your utility company once a month. Smart meters offer users more detailed information about energy usage and cost so they can adapt and make conscious decisions about consumption and reduce their utility bills. You can view your electricity consumption and spend in real-time, instead of just getting a bill monthly or quarterly showing a lump sum with zero insights.
About Zerofy
Zerofy was launched in 2022 by Criss Uudam and Till Quack, founders with extensive backgrounds in renewable energy, technology, and start-ups. They founded Zerofy after realising that a lot of confusion exists for people about where their household produces emissions. Additionally, even though many want to reduce their emissions, they often face complexity and friction when trying to implement solutions. Zerofy has raised a 1.2M pre-seed funding round, led by Union Labs Ventures and angel investors. They have a passionate team in six countries with a commitment to simplifying the zero carbon life for households.
The app is available for free in the iOS App Store in the United Kingdom, Denmark, Estonia, Switzerland, Germany, Austria, and Sweden.