Run your devices on solar with Zerofy Beta 0.2.4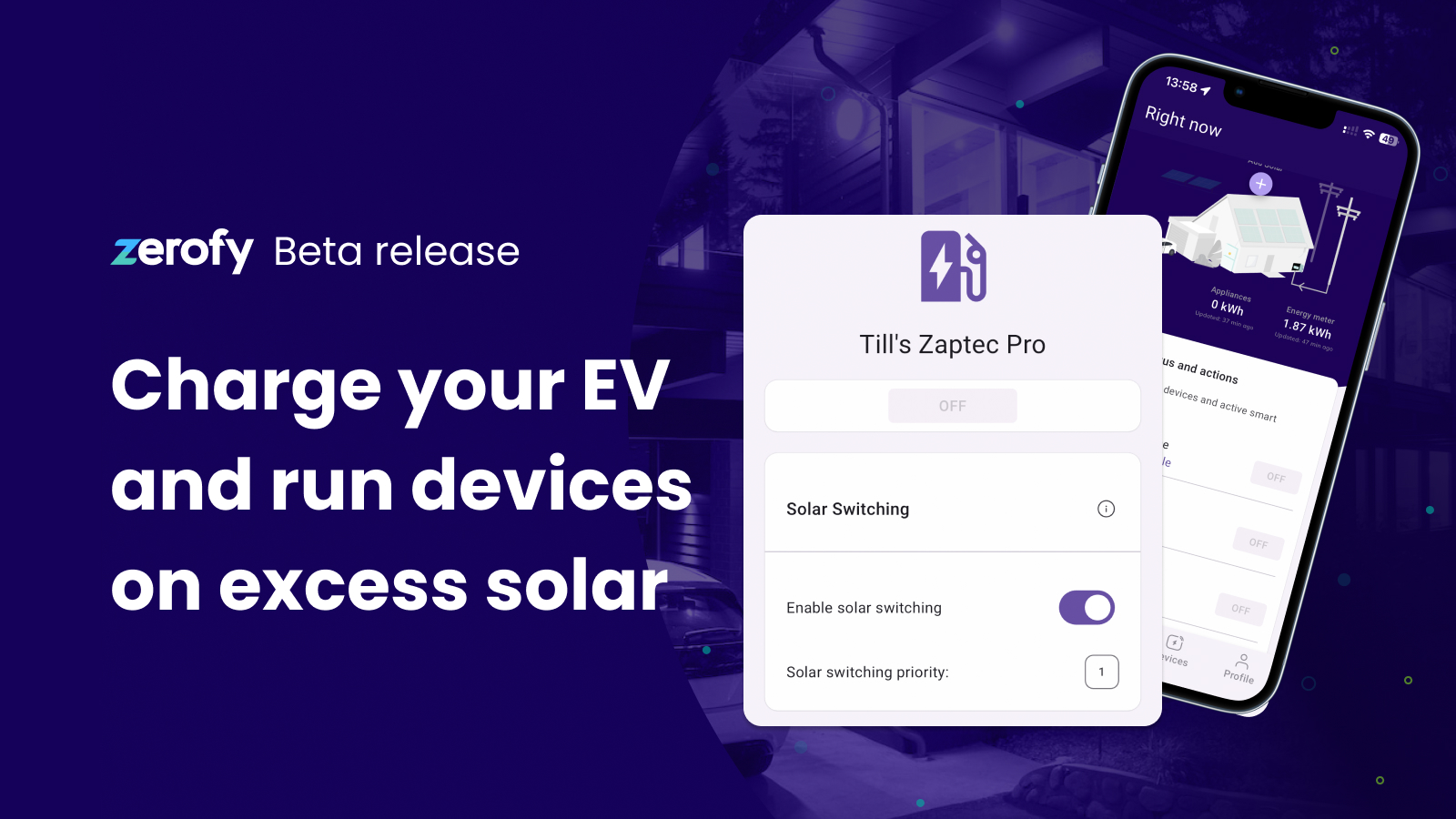 Over the summer we've been hard at work building not simply an update to our iOS app, but even a completely new version of our product. Staying true to our mission to decarbonize households, we put an even stronger emphasis on electrification. Electrification is key to decarbonisation, and once a household starts to equip their home with solar, heat-pump, EV etc., the immediate next step is to coordinate all these devices and their energy consumption, while maximizing the consumption of renewables and minimizing cost.
The result of our work is an app that serves as the autopilot for electrified homes, designed to help you save costs, reduce emissions, and be part of the energy system of the future. We also kept the best pieces of our existing platform, including automation and connecting to digital services.
Zerofy has been testing with beta users for a month, and now anyone can join the beta to experience the latest and greatest features of the app.
"Run on Solar"
One of the latest features in today's beta 0.2.4 update is called "Run on solar". This feature is designed for homes with rooftop solar and other consuming devices such as electric cars, heat pumps, smart appliances. The Zerofy app can now trigger these devices to turn on when there is excess solar production. This helps to optimize solar self-consumption, i.e. using as much as possible of the solar energy you produce on your roof directly in your home. The benefits of this optimization are additional energy cost savings, as well as helping to ensure grid stability and consumption of green energy.
The feature works by continuously checking the current solar production from your cloud-connected inverter and then comparing it to the current consumption in the house. To check the current consumption a connected smart meter is required. If there is no smart meter connected, the feature can also be enabled by setting a fixed solar production threshold.
The video below shows how "Run on solar" can be activated in the Zerofy app, as well as other features of our new app.
Simple to Get Started
Getting started with Zerofy's new app is very simple. No additional energy manager hardware is required. All you need to do is connect your solar inverter and your devices (EV charger, etc.) using their cloud accounts. This means you can start in minutes and save up to more than a thousand Euros compared to installing a hardware-based energy manager.
So join the beta today and try "run on solar".