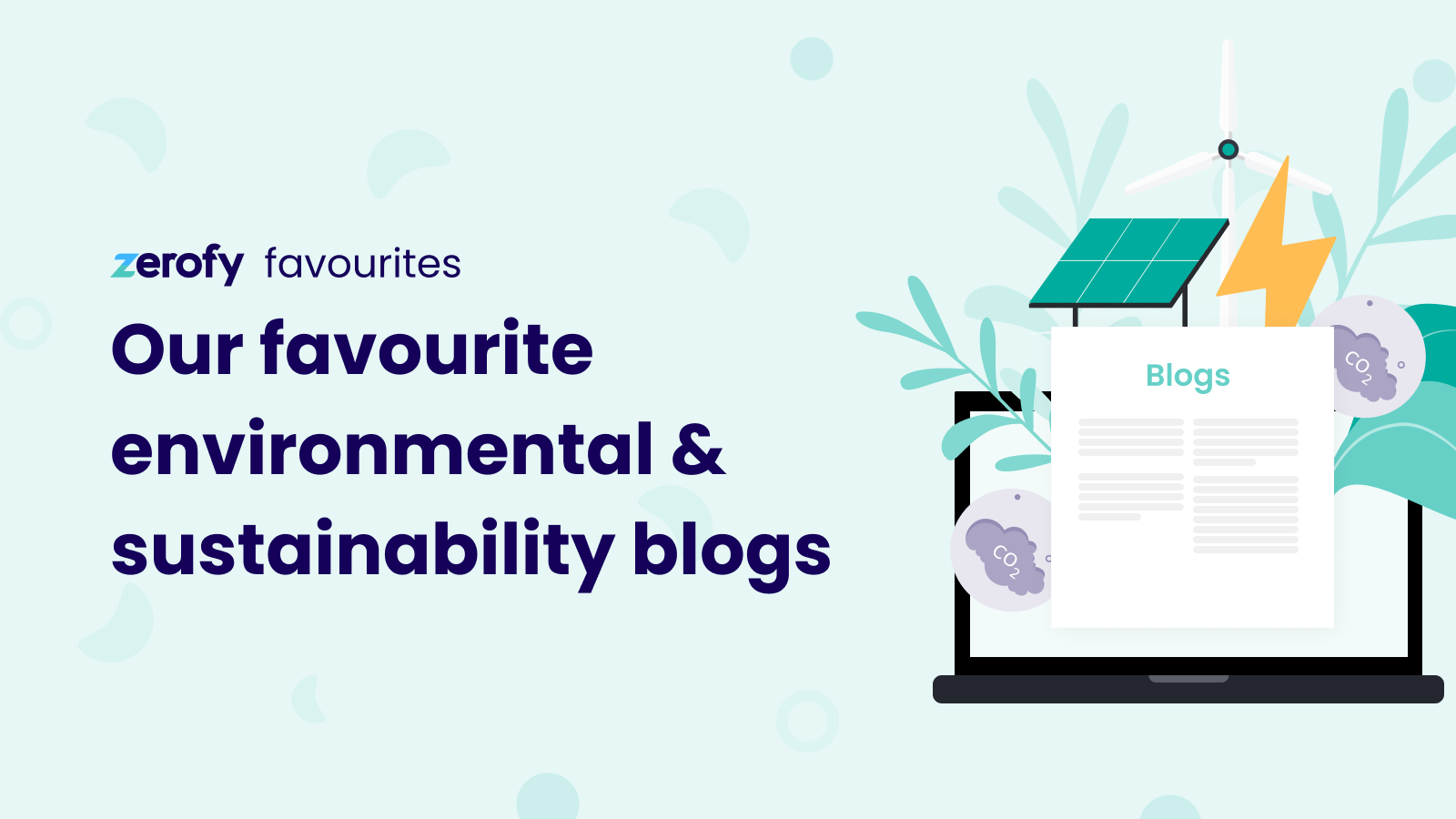 If you're trying to lower your carbon footprint, live more sustainability and keep on top of the latest climate news and developments, there are a lot of great websites that can support your goals. With so many out there, however, it can be tough to know which ones are worth your time.
To help you narrow down your focus, we've compiled a list of great environmental and sustainability blogs we enjoy reading. We've categorized them into areas we're passionate about: sustainable living guidance, electrification, and positive stories about climate innovation and efforts. Plus, we've thrown in a few environmental news websites to keep you on top of breaking stories and policy developments.
Sustainable living
Sustainable Jungle
Sustainable Jungle is dedicated to sustainability and eco-friendly living. This site provides readers with a wealth of information, including tips on zero-waste living, ethical fashion, and green travel. The site also features product reviews and in-depth guides on topics like travel, zero-waste, technology, and buying less. One unique aspect of Sustainable Jungle is its focus on social justice issues related to sustainability, like fair labor practices and environmental justice. It's a great resource for anyone looking to make more environmentally conscious choices in their daily life.
Start here: The zero-waste travel guide
Inhabitat
Inhabitat is a green design and lifestyle site that focuses on environmental news and sustainable design. They devote their coverage to projects and concepts that emphasize energy efficiency, sustainability and connection to the surrounding environment. They have some interesting features on low impact architecture projects and the use of recycled materials for construction and home design. Inhabitat also recommends innovative products, like compostable cling wrap, vegan lip balm, and lower- impact dairy products. If you're trying to take a more sustainable approach to your home and life, and have an eye for design, you'll like Inhabitat.
Start here: 6 unconventional solar panel designs we love
Earth 911
Earth911 is a blog that began three decades ago as an Arizona-based recycling database. Today, it still retains its comprehensive recycling database, but is also an online resource to help people live more sustainably. They focus on small, attainable changes that can reduce their readers' environmental impact. They also have a podcast that features interviews with people building innovative solutions. Their pieces and guides range from new tech, home and garden, travel, and well-being. We particularly like their How & Buy section, with some valuable insights and questions for consumers who want to lessen their impact.
Start with: Backyard compost bin roundup
Treehugger
Treehugger is a blog dedicated to inspiring, informing and influencing people to live a more sustainable lifestyle. It covers topics like eco-conscious living, sustainable practices, and environmentalism. We especially like the Environmental Policy section, which explains implemented and potential federal laws and regulations in an accessible way. Some useful pieces in this section include a primer on what cap and trade is and an opinion piece analyzing the positive aspects and shortcomings of the US Inflation Reduction Act. The website also features product reviews, DIY projects, and planting guides.
Start with: Can an e-cargo bike work as your one and only bike?
Green Living Blog
Green Living Blog focuses on the green and sustainable lifestyle, with resources on how to manage your lifestyle choices, the latest technology and gadgets on the market, and new innovations. It's for readers who are interested in saving energy, money, reducing pollution, or upgrading the quality of the planet's health. Their articles always include tangible, actionable ways you can make a difference. 
Start here: How can you create an environmentally-friendly garden?
Positive news stories
Happy Eco News
Happy Eco News is a website that aims to spread positivity and hope in the midst of the environmental crisis. The site features news stories about innovative solutions to environmental problems, as well as uplifting stories about individuals and communities making a positive impact on the planet. Happy Eco News also offers practical tips on sustainable living, such as how to reduce food waste and conserve energy at home. One unique aspect of the website is its focus on highlighting success stories from around the world, showing readers that positive change is possible even in the face of daunting challenges.
The Daily Climate's Good News Section
The Daily Climate is a blog that curates stories on global climate issues. Topics include climate solutions, impacts, politics, and positive stories. Their Good News section is great to read to remind yourself that despite the tremendous challenges we face with climate change, there is progress being made in many areas. Some recent Good News? Twenty-six Australian species have been recovered from the brink of extinction, machine learning is being used for long-term ocean reef monitoring, and Alaska is seeing a boom in heat pump sales. They also send out their Good News stories via a newsletter.
Start with: As oil companies stay lean, workers move to renewable energy
Electrification
Elecktrek
Electrek is a news and commentary site focused on the transition from fossil-fuel transport to electric transport. They also look at the impact of electric vehicles in context with the wider transition into green energy. There is a lot of Tesla coverage, as well as stories on more niche topics, like electric snowmobile charging, electric air taxis, and electric hydrofoils. They also have a great section on alternative transport, including 62 Hyperloop stories alone. If you're a big fan of EV's or just thinking about purchasing one, you'll enjoy their EV price guide, and dedicated sections for many of the major manufacturers.
Start with: Tesla does the math to transition the world to green energy
The Zerofy blog!
Of course we had to include our own blog on this list! The Zerofy blog includes great resources for anyone looking to reduce their household carbon footprint. We have blog posts that can help you get up to speed on the basics of electrification, like common terms and units to know, what it can cost to produce solar energy at home, and a primer on carbon intensity. We also frequently publish guides to various devices and appliances that can help you reduce your household emissions, like heat pumps, smart plugs, and home batteries for electricity storage. Plus, our blog is where you can find news and details on our frequent product updates. Bonus: if you already have the Zerofy app, you can find and read all of our blog posts and guides for low-carbon living in the Discover tab.
Start with: Heat pumps 101: how they work and emissions reducing capabilities
Environmental and climate news
Grist
For almost 25 years, Grist has been telling stories about climate solutions and innovations. With a focus on climate justice, they cover inspiring developments in tackling the climate crisis, and aim to inspire their readers to take action now. The site also offers practical tips on how to live with a lower impact, making it an excellent resource for anyone looking to stay up-to-date on the latest environmental news and take action in their communities. You can explore pieces on politics, energy, equity, and solutions, all heavily reported and with a real point of view.
Start with: To get off fossil fuels, America is going to need a lot more electricians
The Guardian (Environment & Climate section)
The Guardian's Environment section is a wealth of current news stories with a global perspective. You'll find recent research and reports, wildlife news, extreme weather coverage, and stories about the people impacted by environmental changes. Their Climate Crisis section digs deeper into stories surrounding greenhouse gas emissions and related policy developments. They also have frequent opinion pieces on a range of interesting topics, like a recent piece from climate journalist Jake Bittle on how America's climate migration has already begun. They also include on their Environment home page a graph/tracker from The National Oceanic and Atmospheric Administration showing atmospheric CO2 in parts per million.
Start with: EU to crackdown on greenwashing with 'proportionate' penalties