Zerofy's favourite climate newsletters for staying informed
In the midst of the climate challenge, one thing that gives us great optimism is that there are so many intelligent and committed people working on solutions and providing resources on what we can do. Sharing of insights, innovations, news, and recommendations for individual climate action are all important for tackling the defining challenge of our time.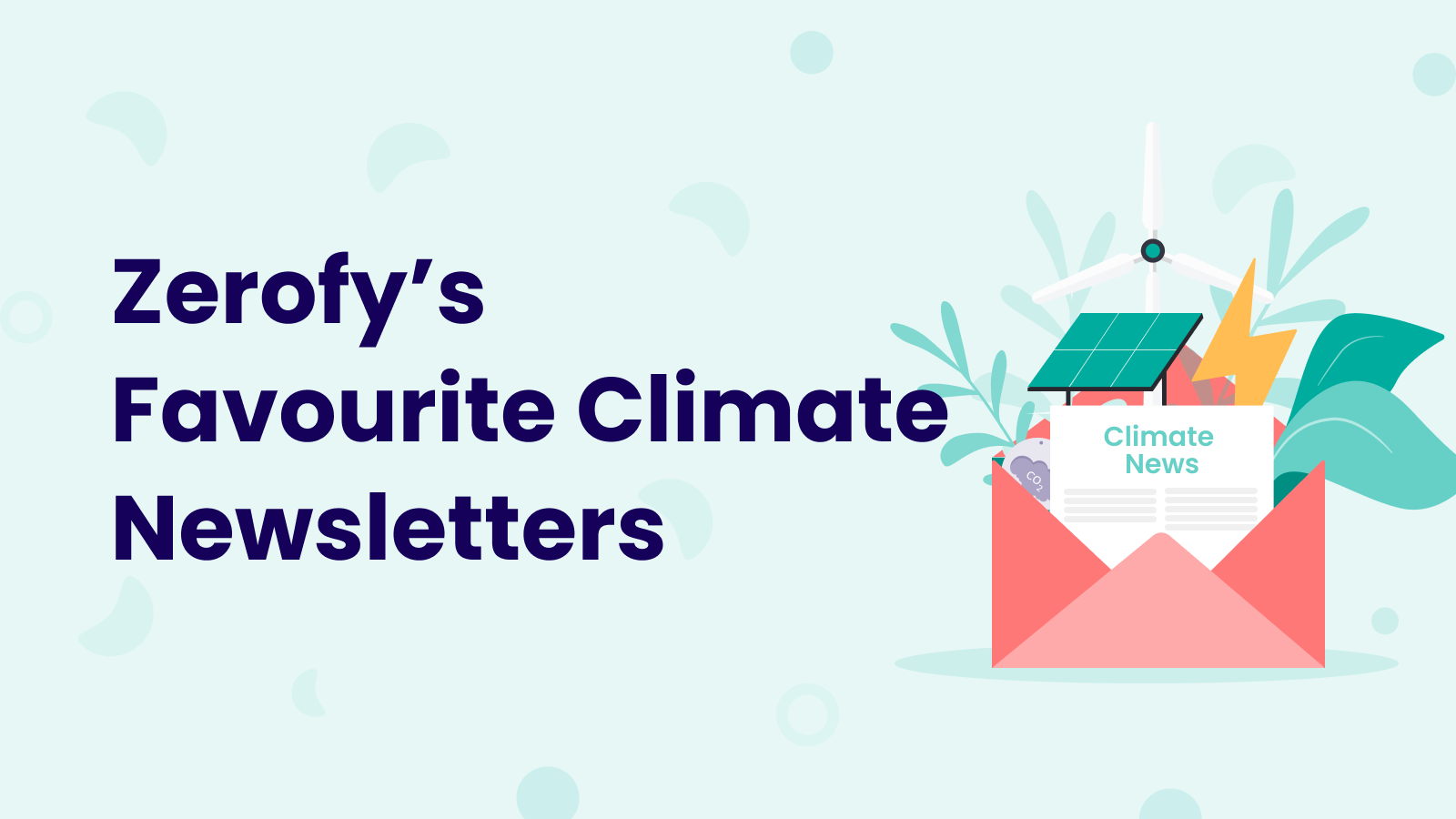 At Zerofy, our focus is on simplifying a zero carbon life with an app that allows you to measure your household carbon footprint, and then reduce emissions by switching to low carbon energy and products. We have a holistic approach that focuses on the four main sources of household emissions: transportation, home heating and energy, food, and consumptions of goods. Our comprehensive focus and commitment to building a science-backed product means our team voraciously reads about climate change, energy and sustainability. These include some fantastic newsletters written by very bright people. We've included our favourites below, as well as what we specifically like about them, and who they are best for.
The Beacon
Overview: This newsletter from Grist arrives in inboxes daily, bringing with it stories about climate progress and news that invokes optimism. Grist's dedication to being a media organisation that tells the stories of climate solutions comes through in The Beacon; you feel informed and inspired by the problem solving happening around the world. Issues typically include a more in-depth story up top, like an investigation into recyclable plastic bag claims in California or hope for the Amazon following Brazil's recent election. Following the lead story is a roundup of links to important breaking climate news from around the globe.
Read this if: You want to make sure you're up to speed every day with the latest developments in climate and policy.
Climate Forward
Overview: Twice a week, The York Times' Somini Sengupta and her team bring readers their guide to climate change. The Climate Forward newsletter contains a wide range of content, from practical tips to reduce emissions, key climate news, and deeply-reported features. Surrounding major climate events or decisions with far reaching climate impacts, like elections, Climate Forward brings readers key points to know. Each issue also includes a range of reading recommendations from both the New York Times' climate department plus additional articles from other publications.
Read this if: You want to keep up on the latest climate news, plus receive insight on how to live more sustainably.
Note: This is a New York Times subscriber only newsletter.
Survival Tech Club
Overview: Survival Tech Club is a bi-monthly newsletter that focuses on climate science and startups. The newsletter issues writer Pauliina Meskanen publishes include interviews and multi-part series on key topics in climate science, like the role of microbes in tackling climate change, and lower emissions solutions for steel-making. Survival Tech Club also includes the latest news, reports, and climate tech chatter from around the web.
Read this if: You want to get the latest on climate tech, as well as great interviews with founders and VCs.
Meat/Less
Overview: Meat/Less is a limited series newsletter from Vox. Over the course of one week, staff writer Kenny Torrella will send you five newsletters that provide you with the tools to eat less meat in a mindful and sustaining way. Torrella focuses on not just the food to eat, but the mental models surrounding sustainable food choices so you can mitigate your diet-related impact on the environment. It's a simple and actionable guide to begin reducing your meat consumption.
Read this if: You want to eat less meat but don't know how to begin.
Want to track how your food choices
impact your carbon footprint?
Volts
Overview: Volts is a twice-weekly newsletter about clean energy and politics. Writer David Roberts has been covering these issues for several decades, first for Grist and then Vox. With Volts, he meticulously tracks the latest developments in the transition to clean energy. He avoids a shallow skimming of breaking news and instead provides a thorough and researched analysis. "The goal is not quantity of information but quality of understanding," he explains. Some excellent recent issues include a look at how coal plants are still getting financed, why social change is difficult, and the potential value of enhanced geothermal power.
Read this if: You're interested in deepening your understanding of the sprawling topic of decarbonisation.
We Can Fix It
Overview: We Can Fix It is a hopeful, science-based newsletter from Kim Nicholas, an Associate Professor of Sustainability Science at Lund University in Sweden. Once a month, Nicholas sends out an actionable, expert update with new research, context for how it fits into your life, and advice on what you can implement. Some of our favourites: Tough Love from a Climate Scientist, How to Fly Less, and Your Top 5 Climate Superpowers.
Read this if: You want evidence-based advice about individual action.
The Green Daily
Overview: The Green Daily is Bloomberg Green's daily roundup of the latest climate news. As you would expect from Bloomberg, the climate news they include often has a business or financial focus. You can expect daily insights on the environmental impacts of policy decisions, green finance, emerging technologies, and new energy solutions.
Read this if: You are interested in stories that focus on the intersection between climate and finance.
Zap!
Overview: Zap! Is the weekly newsletter from The Fully Charged Show, the world's top ranked home energy and electric vehicle channel. Zap! is their weekly roundup of everything they've produced in the past week, including new episodes, EV reviews, news and podcast episodes. They produce a ton of content, so this is a great way to get a good snapshot of everything that has come out recently.
Read this if: You want to geek out about electrification.