Zerofy's 7 favourite climate, sustainability and energy podcasts
The transition to a zero carbon world is going to require a wide range of opinions, approaches and innovations. At Zerofy, we believe there is always more to learn and are constantly seeking out additional knowledge to provide the best experiences for our users.
The Zerofy app focuses on what can be done at the individual level, by simplifying a zero carbon lifestyle for households. However, part of making effective changes at the individual level is being well informed of the wider discussion and current issues so that you can make the best decisions possible.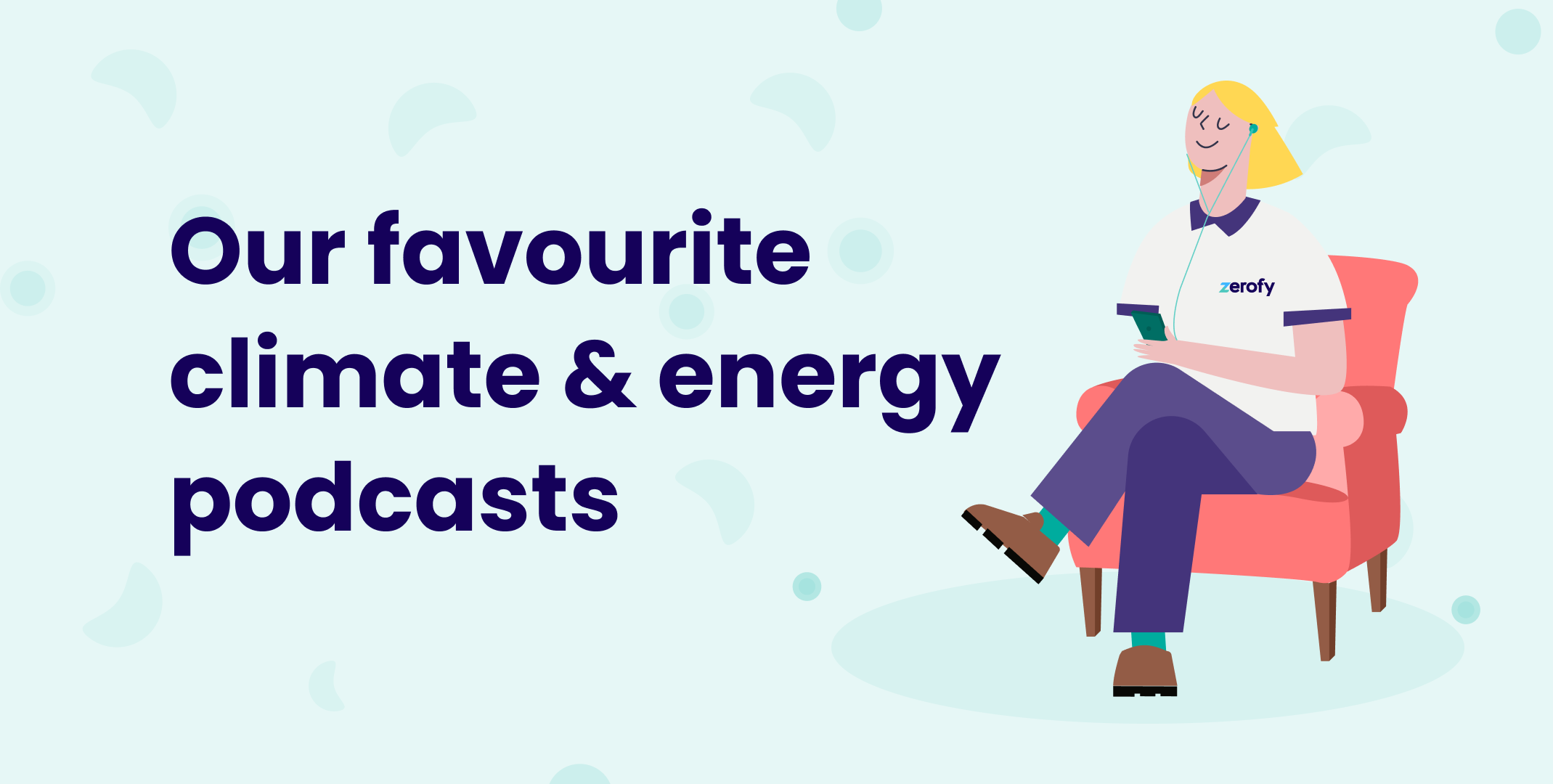 One accessible and free way of keeping up-to-date on the wide world of climate, energy, and sustainability is through podcasts. In the last few years there has been a proliferation of new podcasts hosted by passionate people who want to help disseminate important information and insight. We've compiled a list of our five favourite climate, energy, and sustainability podcasts below, all of which we believe will be helpful educational resources to support you on your zero carbon journey.
Overview: My Climate Journey is an optimistic and clear-eyed exploration of climate change, and how individuals can help address it. Over the course of more than 200 episodes, the podcast features deep dive conversations with science, technology, and climate leaders to bring a wide range of opinions and knowledge to listeners. The podcast also includes an interesting series about climate tech startups, as well as one highlighting the skilled labourers who are playing a pivotal role in the energy transition.
Host: Jason Jacobs, a former tech CEO who wanted to make his next career chapter about understanding climate change and making a difference.
Listen if: you like to nerd out on science and technology and prefer deep understanding over a broad skim.
Notable episode: David Roberts of Volts, prolific writer on clean energy
Overview: Climate Changers features discussions with entrepreneurs, scientists, activists, and educators who are taking real initiative in the climate crisis. It was created for listeners who are tired of feeling helpless about climate change and to provide them with stories from those endeavouring to create a new and sustainable resource and energy economy. The overarching theme of their podcast guests is people who are do-ers and favour action over discussion; those who are on the frontlines of bringing about change.
Host: Ryan Flahive, an entrepreneur, podcaster, and learning technology and publishing executive.
Listen if: you love learning about innovative and unique approaches to hard problems.
Notable episode: Eat the Change with Seth Goldman, committed to democratising plant-based foods
Overview: The Good Together Podcast educates listeners with realistic and accessible advice for living and enjoying a more sustainable life. The episodes include answers to the most common sustainability questions, as well as interviews with experts who give their insight on living low and zero waste. From understanding the impact of fast fashion to travelling more sustainably to simple carbon-footprint-reducing swaps, the podcast is full of actionable tips for greener living.
Listen if: you want to live a more sustainable lifestyle, and are looking for support and resources to get started.
Host: Laura Alexander Wittig, the Founder and CEO of Brightly.eco, a company that combines conscious consumerism education with sustainable products.
Notable episode: Everything you should know about residential solar power
What's your carbon footprint, and what can you do today to reduce it?
Overview: This well produced podcast from The BBC centres each episode on a big climate question, and then their reporters speak with experts and use real-world examples to provide the answer. From exploring what net zero really means to if flying can ever really be climate friendly to asking why we can't build more wind farms, The Climate Question helps listeners achieve a better grasp on climate change. Joining the two hosts each episode are a range of fascinating guests, like Cristina Mittermeier, a National Geographic photographer and conservationist, Marcius Extavour, Chief Scientist at the XPrize Foundation, and Janette Sadik-Khan, former Transport Commissioner of New York City.
Listen if: you want to go beyond the headlines and get a nuanced and heavily reported look at key climate questions.
Hosts: Neal Razzell, a creator of documentaries, podcasts, and narrative series. He is joined by co-presenter Graihagh Jackson, a science broadcaster and podcast host.
Notable episode: Is the world ready for an electric vehicle revolution?
Overview: This podcast focuses on energy pioneers from across the globe who are producing their own electric power for their homes, offices, and communities. The podcast shines a spotlight on people and companies who are thinking differently about energy and undertaking the difficult challenges to transition to renewables. In addition, there are also several episodes with individuals from the policy and investment spaces who share their insight on how these are key levers in supporting the switch to renewable energy.
Listen if: you're passionate, or even just curious about producing your own energy in your home or community.
Hosts: Bill Nussey is a longtime tech CEO and author who began his journey into clean tech with a Ted talk. He is joined by co-host and producer Sam Easterby, whose career is currently focused on renewable energy generation projects in post-mining usage areas.
Notable episode: Ryan Goodman: Are microgrids the future of reliable, clean energy?
Overview: Once a week, Cleaning Up brings listeners a conversation with a leader in clean energy, mobility, climate finance, or sustainable development. The tone of the podcast is inspiring and educational, and the guests tend to not only be thoughtful, but be individuals who are making a real impact. Cleaning Up includes guests from a wide range of backgrounds, like climber Alex Honnold, carbon removal scientist and thought leader Julio Friedmann, and Mark Carney, the UN Special Envoy on Climate Action and Finance.
Listen if: you want to be inspired by diverse approaches to leadership in the climate challenge.
Host: Michael Liebreich, the chairman and CEO of an advisory company and expert on clean energy and transportation, smart infrastructure, technology, climate finance and sustainable development.
Notable episode: Hannah Jones: Calling the Earthshots
Overview: This podcast features straightforward talk on the global energy transition from fossil fuels to renewables. In each half hour episode, host Chris Nelder jumps into a key topic or current issue surrounding the energy transition. The episodes reflect the true global scale of the challenge, like a look at Alberta's oil and gas transition, the decarbonisation of the UK's energy grid, and Japan's nuclear dilemma. Each episode comes with a "geek rating" so you can choose how deep you want to travel down the rabbit hole of this very complex challenge.
Listen if: you want expert insight and a better understanding of how different countries are approaching the energy transition.
Host: Chris Nelder has been writing about energy and investing for 15 years, including two books and more than 200 articles.
Notable episode: How the transition will unfold