Zerofy Shared Solar now shows real-time data in the Zerofy app!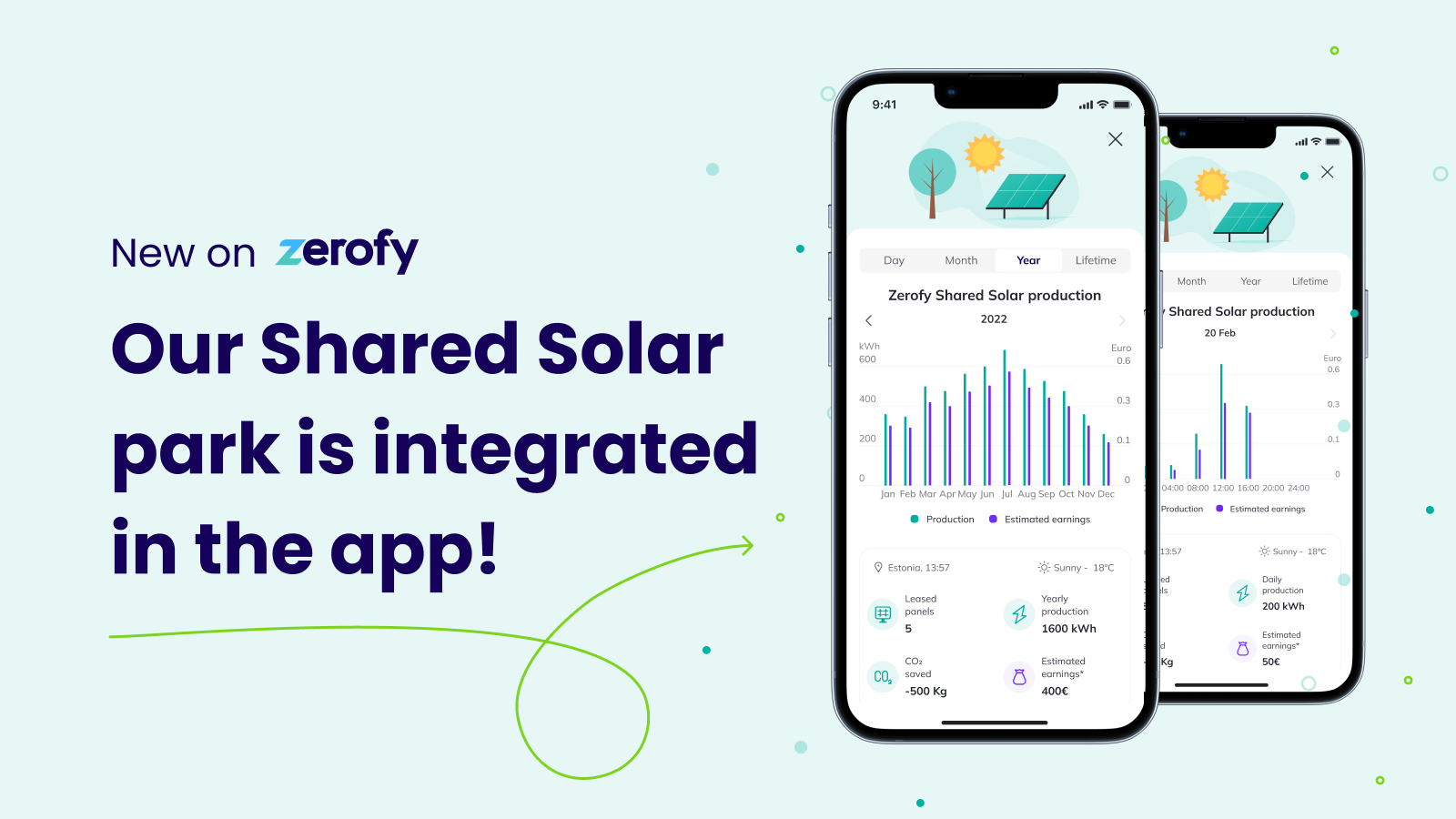 We're excited to announce that we have connected our Shared Solar park with the Zerofy app! This means people who rent a panel in our Shared Solar park can view live electricity production, avoided CO2, and earnings, right in the app! This combines our real-world renewable energy project with our app's best-in-class insights and carbon footprint tracking.
Zerofy is the only climate app on the market that has a connected solar park people can rent panels in. This makes the experience for those who rent a panel even richer because they get the same insights as people who have their own rooftop solar panels.
What is Zerofy Shared Solar?
Zerofy has recently launched a solar park that anyone in the world can rent a solar panel in. We started Shared Solar because we wanted to help anyone who is interested in supporting solar energy participate in the market. This means that people can get involved in solar who are renters, or homeowners who don't yet have the funds or experience friction trying to install their own rooftop panels.
When you rent a panel, it stays in our Shared Solar park. The solar energy is fed into the local grid, making you a green energy producer who is contributing to a greener grid. Zerofy sells it at the market price, and after a 20% operating fee, sends the proceeds to you. You can use the earnings as you wish, but some ideas are putting it towards your utility bill or adding it to your fund for your own solar panels. When electricity prices rise in Europe, so do your earnings from your panel. Unlike most offsetting projects, renting a Shared Solar panel has a measurable and additional impact.
So, what does the connection with the app mean?
Panel renters can open the Zerofy app and:
View the electricity production of their panels
See how much revenue their panel is earning
Track CO2 savings with hourly granularity
View current carbon intensity
Check out a live cam feed of the solar park
Purchase additional panels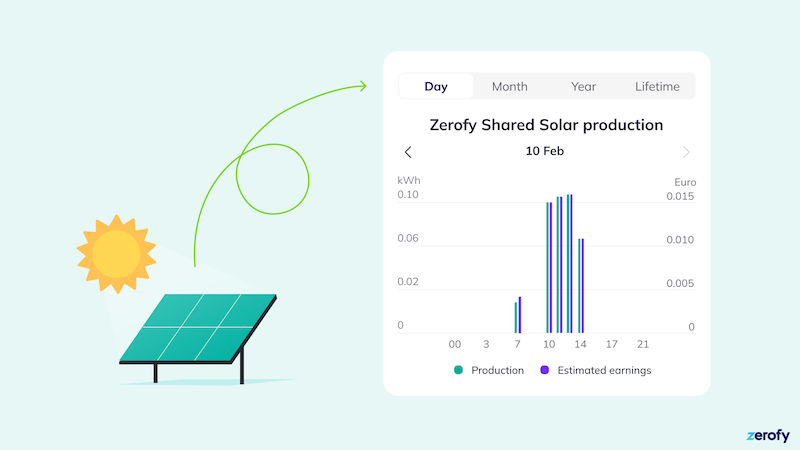 Green utility plans and offsetting projects typically give people a yearly average with little insight. Zerofy considers the real-time carbon intensity of electricity, and we are the first app in the world to calculate avoided carbon emissions with hourly granularity. This granularity is really crucial, because it actually takes into account the lower (but more valuable) solar production that happens in winter. With access to all of these powerful insights in the app, Zerofy Shared Solar renters get to be very involved and have a similar experience as those who have rooftop solar.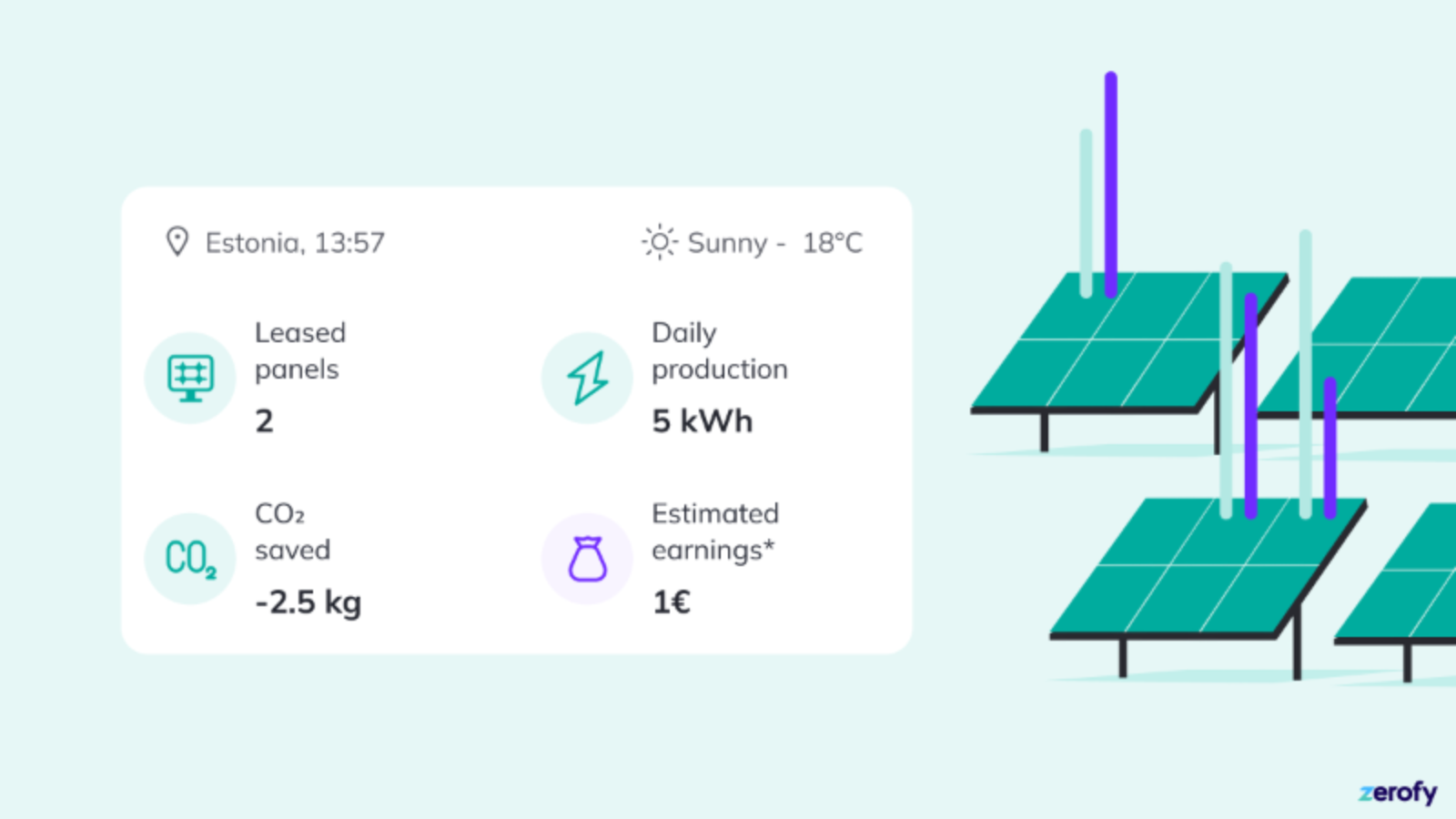 How do I get started with Shared Solar?
Becoming part of the Shared Solar community is simple. If you are in one of the countries where the Zerofy app is available, you can rent a panel right in the app. Or, you can rent a panel on our website from anywhere in the world, plus view detailed info on the project and estimated production and earnings. Each panel rental is €400 for a 25-year term. This is the typical lifecycle of a solar panel, meaning you will be participating in solar energy production as if the panel is yours.
Get Zerofy Shared Solar